News
Saw Revo Affordable Aerobatic Airplane Debuts at AirVenture
Meet The Team
---
Eddie Saurenman - SAW
Building his first Pitts at age 14 and having no previous Pitts flying time, EDDIE SAURENMAN strapped himself into his first single-seater open cockpit Pitts S1 and started flying at 17 for two to three hours a day to gain over 1250 hours in the world renowned Pitts Special before the age of 20; squeezing in being issued a Repairman Certificate, and earning his FAA unlimited aerobatic waiver at 18 years of age, which he maintained for ten years.
At 15 years of age Eddie was soloed by Jack Lowers at Squadron II, a monumental step into a world of wonder and went on to fly airshows at 18 with names that are now legend, like Jimmy Franklin, Steve Franklin, Duane Cole, Marion Cole, Harold Newman, Bob Heuer and many others. Eddie's aviation career started in 1975 working for Aerotek in Albuquerque, New Mexico building 15 meter composite sailplanes with mentor, George Applebay. Over the next several years, Eddie worked at many of the major aircraft manufacturing companies in Wichita, Kansas such as Cessna, Beechcraft, Learjet, Raytheon, Bombardier, Helio Aircraft and others. Eddie learned the industry from the ground up starting with de-burring parts at Cessna and worked his way through tooling, aircraft assembly lines, manufacturing planning, scientific information systems, airframe and systems design, aerodynamic and structural technical analysis, etc. Eddie's passion has always been aerobatics and aerobatic aircraft design. He has designed and modified airplanes for a number of today's premier airshow pilots. These modifications include wing design, tail designs, fuselage modifications, control system modifications and installation of turbojet engines as auxiliary thrust units, tail designs,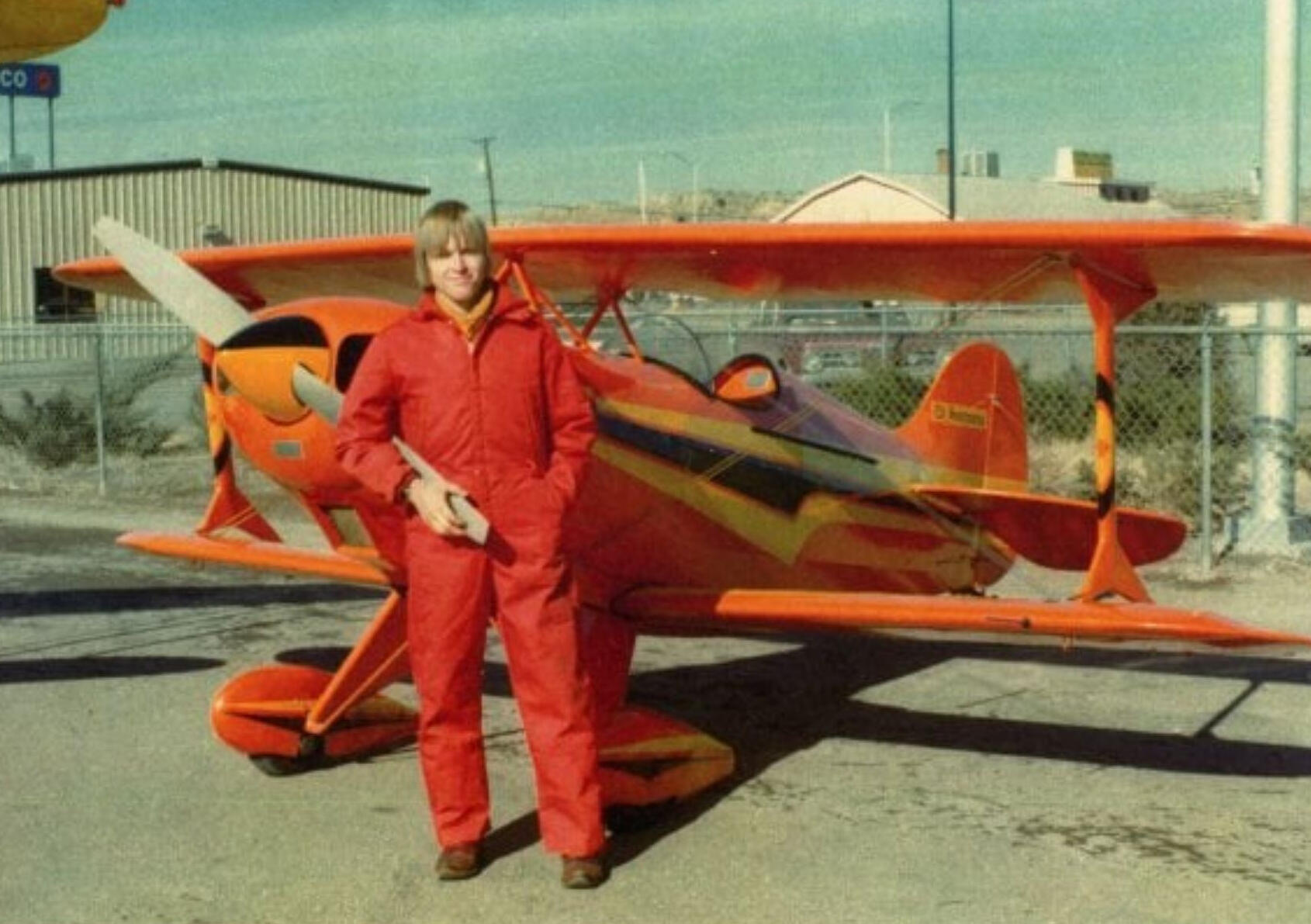 fuselage modifications, control system modifications and installation of turbojet engines as auxiliary thrust units. When you see Sean Tucker's Oracle Challenger, John Klatt's "Screamin' Sasquatch" Jet Waco biplane, Kyle Franklin's "Dracula," Skip Stewart's "Prometheus," and others, you're seeing Eddie Saurenman's genius and expertise in action.
Now under the banner of Saurenman Aero Works, LLC (SAW), Eddie Saurenman has designed the next great aerobatic airplane, the SAW "REVO," a super light aerobatic monoplane in addition to the SAW "REVOLUTION," an all carbon fiber biplane.Go to the Projects Page to see Eddie's and Saurenman Aero Works past and latest projects.
---
Maz Perissinotto & Ruth Charlesworth - The Cloud Dancers
MAZ PERISSINOTTO is a class 1989 pilot, got his wings at age 19 and has flown more than 4000 hours on 62 types of aircraft. Maz is rated for ultralights, seaplanes, jets, aerobatics, high performance, twins, electric and many experimental aircraft in three continents. He and his wife, RUTH CHARLESWORTH (Crew Chief, Private Pilot & model), have displayed exotic airplanes to airshows worldwide since 2010. They are a part of the flight test program of Revo, as well as recipients of the first Revo production model.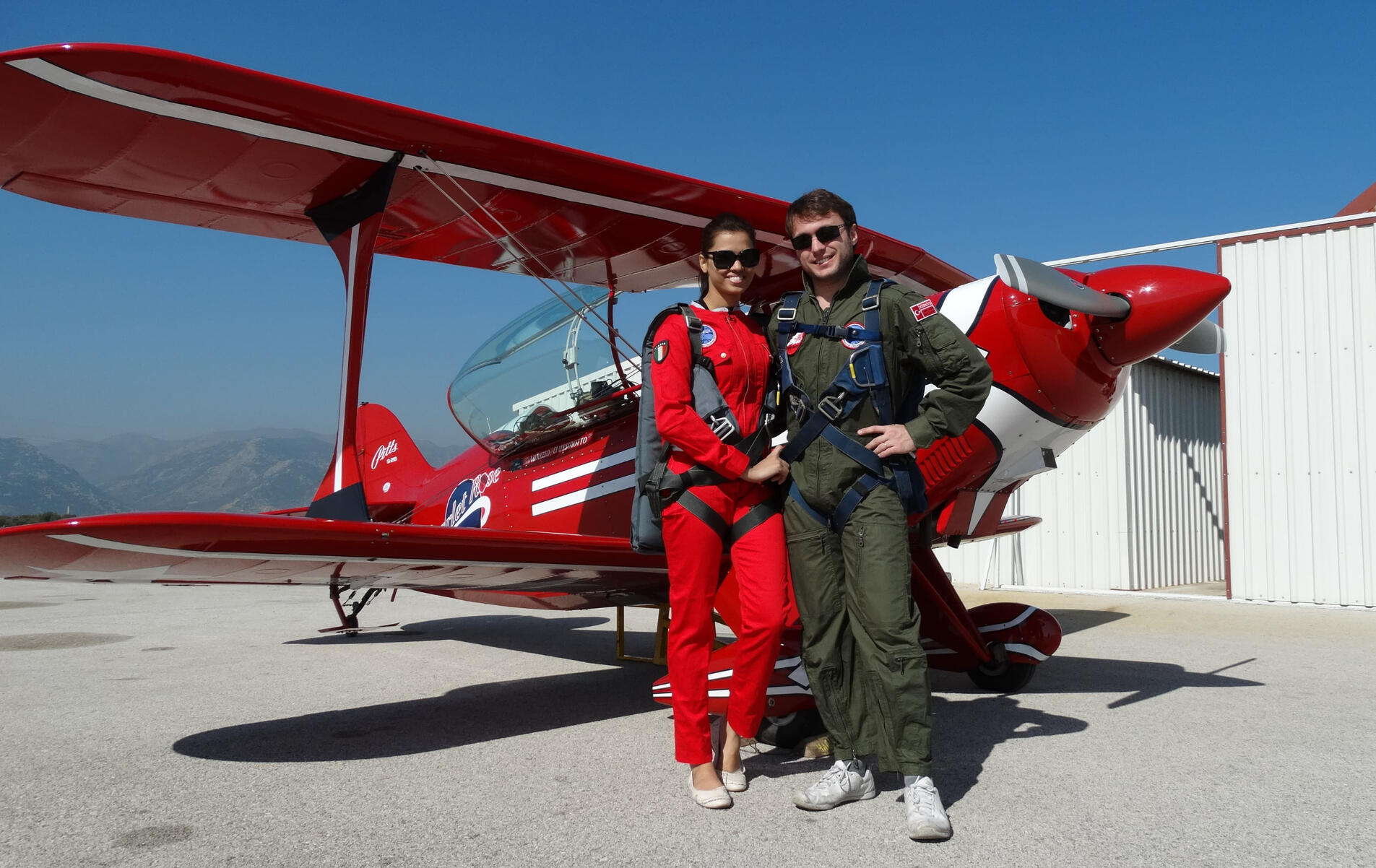 ---
Dell Coller - Aero Speed
Specialized capabilities: All aspects of aircraft structures and systems, including turbine engine systems. Dell has spent his entire adult life flying or building aircraft. He is a commercial pilot, A&P mechanic and holds a surface level SAC card. Dell has built three separate DR series aerobatic aircraft for his personal use, as well as completing full restorations on several aerobatic aircraft, including the Extra 300, Yak50 and
Cap10B. Dell not only led the team that built John Klatt's "Screamin' Sasquatch" Jet Waco, a 1929 Waco biplane with a Learjet engine assist, but is now flying airshows with it upon Klatt's retirement.Dell also led the team that built the YAK 110 (Two YAK 55s joined by a center wing section containing a Lear jet engine). Dell is capable of designing and installing all avionics and electrical systems, as well as turbine engine systems. He is also fully versed in all aspects of aircraft construction whether composite, aluminum or steel tube/fabric.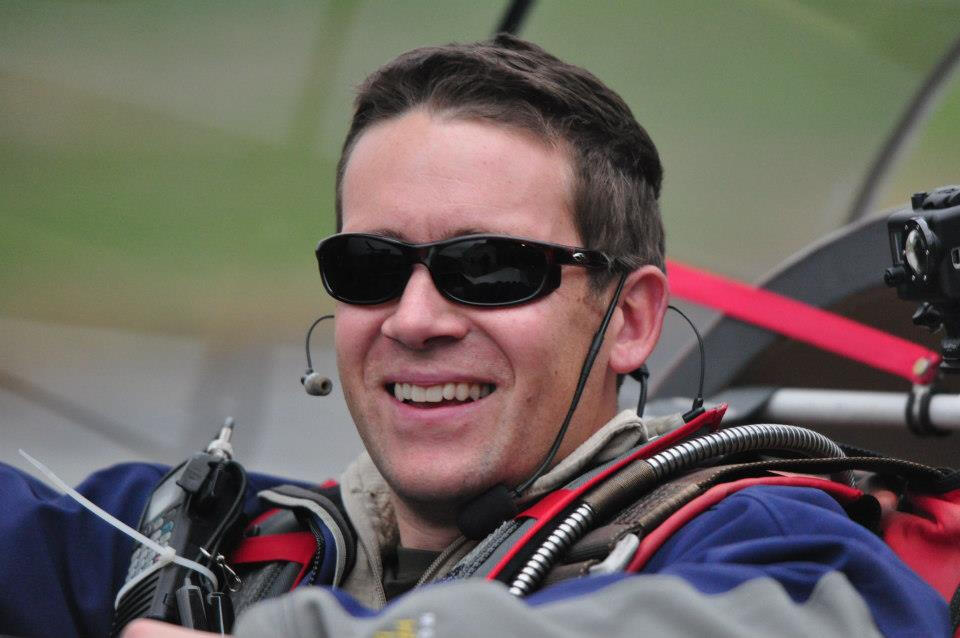 Contact Us
•sawcustomaero@gmail.com
---
Please include your contact infomation
Thank you.
We look forward to hearing from you.
Thank you
Follow our progress on facebook!
© saurenmancustomaero
website curated by madcroww
REVO
The SAW REVO is a clean sheet design. The original design concept was intended to be a one-off airplane to explore possibilities of a minimalist lightweight aerobatic airplane. As the design matured and became more visible it became apparent that there was a market for the REVO. The design philosophy changed to fill the desires of the aerobatic community.The design criteria is simple, light, strong, simple to maintain and easily transportable on the ground. The wings can be removed in under 20 minutes and the airplane can be stored and transported by trailer.
From a maneuverability stand point the ailerons, elevators and rudder are sized for good control response at the lower speed spectrum.The production aircraft will be powered by the UL350 engine with full inverted fuel and oil systems.
SAW Revo Specifications
Dimensions
Wing Span ----------------19.52 ft
Length ------------------- 17.33 ft
Wing Area ---------------- 73 sq. ft.
Empty Weig-------------- 527 lbs
Gross Weight ------------ 850 lbs
Fuel ----------------------- 15 galsPerformance
Stall Speed --------------- 61 MpH
Cruise Speed ------------ 135 Mph
Roll Rate -----------------360+ Deg/SecFirewall Forward
Engine ------------- 80 Hp. Rotax 912 (prototype only)
Propeller ----------- 72 Whirlwind 3-BladeDesign Features
Quick wing removal for trailering.
Designed for fast kit assembly.
Customer choice of carbon fiber or aluminum wings.